1200 Q & A $27.99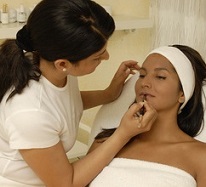 One-Time-Fee
Unlimited Access
Or Choose more
FREE exams below
Free Esthetics Exams:
Printable eBook & Online Total Access Combo $37.99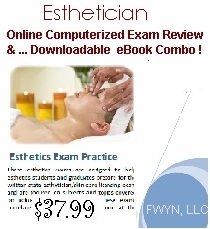 All tests developed by FWYN, LLC
Esthetician State Board Examination Practice with - Total Access – includes all of the following:
18 Focus Exams

5 Timed Exams ranging from one hour to two hours with 100 questions to 125 questions. The timed esthetics tests are taken from all esthetician State Board Test subjects and topics.

3 Power Exams with 250 questions in selected esthetics State Board topics.

3 Grand Exams with 500 questions from all esthetician state board subjects and topics.

Our esthetics State Board Test Practice subjects include: over 1,200 questions in Advanced and Specialized Services, Anatomy: Systems of the Body and Organs 1 & 2, Application and Removal Procedures, Basic Chemistry, Basic Facials, Cells - Cytology, Consultation, Skin Analysis & Draping, Electricity, Hair Anatomy & Hair Removal, Integumentary System, The Skin & Factors That Affect The Skin, Machines, Makeup & Color Theory, Massage, Microbiology, Products, Sanitation & Infection Control & Safety, and Skin Conditions, Disorders & Diseases.

Purchasing Esthetics Total Access means you will be able to study all of the above subjects from your smartphone, tablet or computer until you pass your state board exam (whether that is next week or in two or three years).

FWYN, LLC has successfully assisted cosmetology, barber and esthetician schools, students, graduates, apprentices and licensed professionals moving to a new state in the U.S since 2010 – to PASS the state board exam in the United States!


FWYN, LLC also has State Board Exam Practice in the following crossover careers: Click a career to learn more! ♦ Barber Exams ♦ Cosmetology Exams ♦ Manicurist Exams ♦ Natural Hair Care and Braiding Exams ♦
The eBook has over 1,000 Questions to prepare you for your State Board Exam. Answers are listed after each chapter. The eBook correlates with the Total Access exams service at www.onlinepracticeexam.net and many students have opted to combine their Total Access purchase with the eBook.

Combine the online Esthetician Total Access (1,200 questions) with the printable eBook (1,000 questions) and SAVE $12.00. Buy both now for only $37.99.



The testing companies do not reveal the exact questions on the exam to anyone - but they do reveal the topics on the exam and all the subjects within those topics. From that information, we were able to develop this e-Book of over 1,000 questions from the topics and subjects that will be included on the state board exams.

You have worked very hard to get to this point. You have put in the hours. You have performed countless facials, extractions and carefully made many legs, backs, chins and armpits hairless. You have sanitized over and over. You have studied systems of the body, the anatomy of cells, product chemistry, electricity and machines used in the spa. The only thing that is left, before you can begin your dream career - is to pass your state board licensing exam! You can do it. Improve your chances of passing your state board exam through review, practice and fortifying your confidence with this e-Book - Esthetics Exam Practice from FWYN, LLC!