Esthetics State Board Exam Practice Tests
OH NO! You need our help passing the esthetics state board exam. We have 1200 questions and answers for you to practice with in our esthetician Total Access package. Order Total Access now and click the Add To Cart button or choose another free practice exam from the Free List.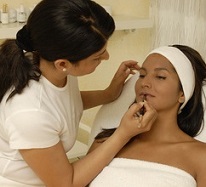 1200 Qs & As $27.99
There are only a few questions on the free sample exams. Your state board esthetics exam will include information from more than one curriculum. There will be questions and answers on that exam you won't be familiar with because of that fact. Your best bet is to purchase access to the online computerized esthetician exam review (Total Access) for only $27.99, where you will have unlimited attempts at numerous exams. With our service you will be able to practice and review questions similar to a state board exam, but in a relaxed environment - your own home - your own computer - at your own convenience. Remember, practice makes perfect. Now... get back to work, and practice. Good Luck!

Total Access has 1200 questions in the following: Advanced and Specialized Services, Anatomy: Systems of the Body and Organs 1 & 2, Basic Chemistry, Basic Facials, Cells - Cytology, Consultation, Skin Analysis & Draping, Application and Removal Procedures, Hair Anatomy & Hair Removal, Electricity, Integumentary System, The Skin & Factors That Affect The Skin, Makeup & Color Theory, Massage, Machines, Microbiology, Products, Sanitation & Infection Control & Safety, and Skin Conditions, Disorders & Diseases. All Exams include instant feedback and work with smart phones, tablets & computers! There are 5 Timed Exams from 100 questions to 125 questions taken from all subjects, 18 Focus Exams from the subjects listed above, 3 Power Exams with 250 questions in selected subjects, and 3 Grand Exams with 500 questions from all subjects.
Cosmetology, Barbering, Manicuring and Braiding Tests
FREE Questions and Answers. Unlimited Attempts. Feedback given each time you submit an answer! Review answers as you take a test.
♦ Cosmetology Exams ♦ Barber Exams ♦ Manicurist Exams ♦ Natural Hair Care and Braiding Exams ♦
© 2010 FWYN, LLC